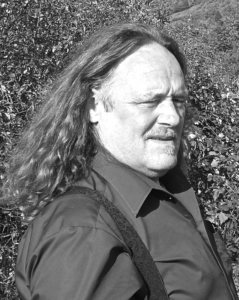 Michael 'Mike' Jansen, born 1951 in Bochum, is an international renowned crossover talent. He is working as composer as well as visual artist. The range of his visual work is about painting, drawings, multimedia paintings and projects, performances and public sculptures.
Michael Jansen was an assistant and mastermind of Kurt Link. Then he cooperated with Joseph Beuys i.a. at 'Fettecke', 'Raum 3 – the whole German post-war lyrical …' (today Art Museum Vaduz Lichtenstein). Participation at the Free International University (FIU) and additional his close collaboration with John Cage influenced Jansen and promoted his artistic intentions. Jansen hold guest professorships at the University of the Arts, Bremen, and at the Centre Européen d'Art Contemporain, Vallauris, Nice.
As composer, performer and musician Jansen set his focus is on new romanticism and on electronic music. As co-founder of the famous underground art music and performance groups padlt noidlt (with Frank Köllges, Mike Hentz, Andreas Brüning), Missiles and Minus Delta T he gave many basic impulses to contemporary culture. Among his artists friends are Joseph Beuys, Sigmar Polke, Cy Twombly, Heinz-Günter Mebusch, A.P. Astra, Joe Brockerhoff, Heinz Zolper, Nam June Paik, Mike Hentz, Marina Abramovic, Mike Kelly and the poet Thomas Kling. With Minus delta T he took part twice at Documenta Kassel.
Jansen lives and works in Düsseldorf, Belgium and Austria. His work is represented i.a. at Collection Artforum Cultural Foundation, Kokkinis Collection New York, PAC Austria, Art museum Vaduz Lichtenstein, Bauer Collection, Michael Jackson Collection, Jordan Collection USA, Winter Foundation Hamburg, Heinrich-Heine-Institute, Cove collection Düsseldorf.
Projects, exhibitions and purchases
Projects, exhibitions and purchases, i.a.: 'Feuerkonzert' Elementarkonzerte Graz, 'Orientexpress', Landesmuseum Volk und Wirtschaft Düsseldorf, National Museum Samuel Brukenthal Sibiu (RO), Künstlervererverein Malkasten Düsseldorf, 'missiles', 'mein europa' Berlin, 'Niemandsland' Düsseldorf Weimar Barcelona ​​Kampala, ExtraHart artist fair Art Cologne, 'California Dreaming' , Kunstraum Schloßstrasse Mühlheim a.d.R., Galerie d' Hamé, 'MetroMusic' Miami (Fl) Moscow, 'Gulf Projects' Düsseldorf, Athens, Dubai, Abu Dhabi, Doha, Mumbai, 'Hangar' Foundation Langen, 'Opera Death' Atatak Düsseldorf, Teahouse Music, 'Colourfields' London Satellite Frieze, Erdmusik Landesmuseum Düsseldorf, Lehmbruck Museum Duisburg.
 LINKS:
Composer, performer and musician