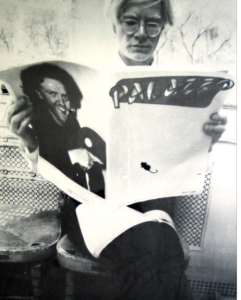 Heinz Zolper, born 1949 in Cologne, studied 1969-1972 at the Kunstakademie Düsseldorf and 1969-1974 at the University of applied arts Cologne.
Painting for tolerance, women's rights and equality
Heinz Zolper, loner and artistic partner of such diverse personalities as Milva, Udo Kier, Mae West, Russ Meyer, Rainer Fassbender or Andy Warhol, is one of the most significant figural painters and crossover artists of his generation. Long time before the revival of figurative painting (like the "Leipziger Schule"), Heinz Zolper created a unique style and content. He had initiate a change in painting after decades of abstraction. Inspired by heros of his time, like Matisse and Dali, he developed his art in context to Dada and New Sachlichkeit. A second artistic engagement he had with American, British and French PopArt. But Zolper succeeded in working on an independent oeuvre with a distinctive concept. Once citing, sometimes interpreting in terms of content – he created his own iconography. The motif of the "Dame", a stylized Madonna's bust, became a catchy symbol for his work and a significant metaphor standing for women and gender rights. It became his trademark and at the same time probably a very early and very strong reference for social agatism, demonstrating respect for the role of women and LGBTQ in society. Under this aspect he can be considered certainly the first male artist and feminist in terms of  women's lib and gender equality.
It is good to know that at the Rhineland, especially at Cologne,  in the 60ties/70ties of the 20th century a movement started to become a mega centre in contemporary art. Cologne was well known for its open social atmosphere. This attracted many artiststs and collectors, which have decisively influenced contemporary art again. Heinz Zolper can be seen as an authentic and influential artists artist together with collegues like Joseph Beuys, Sigmar Polke, Georg Herold, Albert Oehlen and Martin Kippenberger. In his self-understanding Zolper is at first a painter and everything what he is doing in art is be done from the point of a painter. Zolper had understand and proclaims, that art is a main chance for human beeings to feel free to shape their lives and future.
A mix of different motifs with humorous elements or historicizing reminiscences is typical for the style of Zolper.  A specific feature of his work series is dedicated to the intensive study of the pictorial worlds of high cultures and their trivializing reinterpretation in the use of art and everyday culture, Greek classical art and its re-emergence in the Renaissance. One of his last work series started in 2007 as his response to the so called international bank crisis: the money series.
In the course of development of his work, his iconography spans the entire spectrum of time and space. Zolper's message suggesting that political and economic globalization must open the boundaries of cultures – not to down level, but to respect more. The artist can be seen as linked to the internationalism of classical modernism, whose representatives had already presupposed an artistic world citizenry some hundred years ago. However, this kind of  opening cultures calls for an exchange, open debate and as well for education.
Zolper is a painter, but at the same time he grew up in a time, where artists like to cross the borders of canvas and tried to expand it. Thus, his overall structure shows not only intercultural, but also intermediate facets. Photography, graphics, video and sculpture are representational forms in which the idea of painting is always prolonged.
Beside of his huge painting and drawing work (like "Großes Stadtbild Stuttgart" for the City of Stuttgart) he got famous still in the 70ties also with his ingenious money carpet of 40.000 Deutsche Mark in 10 Mark banknotes, which brought him into Saturday evening TV shows and on the other side in conflict with the government, when they tried to accuesed him for descruction of money  – that is as object legally always the property of the state. Another huge project, started decade ago, is dedicated to research of the principle of the evil. Dealing with this topic led him to co-develop the socio-cultural project Versöhnung der Werte | Reconciliation of Values.
Among few other artists, Zolper was for many years very familiar with Andy Warhol, who respected him very much as well. Still to the last year before the death of the pop legend (1928 – 1987), paintings and other works were cretated on the basis of a common collaboration as a tribute to his American colleague and as an artistic manifesto of German and American culture.
Exhibitions and purchases of Heinz Zolper

New gallery collection Ludwig Aachen, Collection of the Venice Biennale, Poeticas visualis Sao Paulo Biennale, MoMa NYC Palazzo collection, Documenta-Pavilion Atlantis, Mariposa Teneriffa, Museum am Ostwall, Art Collection of the State of N.R.W, Landesmuseum Bonn, Picker Gallery at Colgate University, Museum König Bonn, Paper Museum Zander, Diocesan Museum Bamberg, Museum Ludwig, Hessisches Landesmuseum Darmstadt, PAC Austria, Collection Neue Galerie Graz, Gallery Hans-Jürgen Müller, Michael Horbach Foundation Cologne, Winter Stiftung Hamburg, Pittsburg Collection, Bayer – Werke, Kanzleramt Chancelor Gerhard Schroeder, Artforum collection, collection Wladimir Semjonowitsch Semjonow.
Public projects:
i.a. Atlantis, World Cup, Millenium 2000, Gulf Projects, Dresden Frauenkirche, Marathon 2004, Dame chair, Dame for love and respect.
Links:
Heinz Zolper
Wikipedia
Winter Foundation. Hamburg
Kunstform international
ArtForum Editions