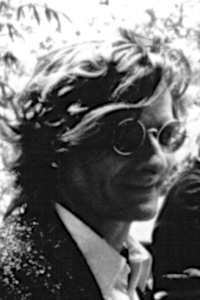 Johannes (Joe) Brockerhoff was a painter and philosopher, born 1952 in Leipzig, died 2023 in Meerbusch/Düsseldorf. When he was still a child, he left with his family the Deutsche Demokratische Republik for West Germany. In Düsseldorf at the Heinrich-Heine-University Düsseldorf he had studied philosophy and with Joseph Beuys he was his student for art.
His work is very close to conceptual pop art, in this case sometimes familiar to the figural and colour world by Jeff Koons. He was a remarkable pioneering spray-artist, maybe one of the greatest worldwide. With colour-intensive paintings, in the transition from realism to surrealism, Brockerhoff worked on his themes of lust, passion and peace. His artistic creations also included digital art, sculpture, photography and cartoons. His virtuous technic made him generally an unique master of painting, on one side very close to the renaissance wallpainting tradition and on the other side part of the contemporary street art as well. A creator of finest paintings, he was also one of the very few artists able to design and decorate huge objects like castles, airplanes or trains. A specific  characteristic of his artistic concept was that he liked to exceed social boundaries. He created as well for adult entertainment places and for funfairs as for important private and public art collections in Germany, Switzerland, Austria, France, Italy, Greece, Russia, Emirates, Japan and the US.
Among his close artists friends were Sigmar Polke, Georg Polke, Memphis Schulze, A.P. Astra, Heinz Zolper, Heinz Günter Mebusch,  Fujio Akai, Michael Jansen, Stephan Runge and especially Achim Duchow. Together with Achim Duchow and Norbert Faehling, Joe Brockerhoff founded MedienMafia (MM) in Düsseldorf. This free association of like-minded people saw itself as a network to which other artists joined, including Mike (Michael) Jansen, Frank Köllges, Stephan Runge, Mischa Kuball, Helmut Steinhauser and Wolfgang Schäfer. Gallery and art space was Raum 77A in Düsseldorf, were he curated and exhibited. With Stephan Runge, Achim Dechow and Helmut Steinhauser he had in common his love and deep relation to Japan. He lived and worked in Germany, France, Singapore and Japan, holding studios near Düsseldorf, in Bordeaux, Tokyo and Osaka.

Exhibitions, performances and purchases: i.a. Forum für moderne Künste – Berlin, 'Hans Kultur', Art Space NYC, PAC Austria, Hiroden Peace Train – Hiroshima, Opernpalais Berlin, Artforum Collection, Galerie OXY – Osaka / Japan, Sunshine Gallery Chiang Mai, National Gallery Malaysia, OAG Ostasien Gesellschaft Tokyo, Kashiba contemporary Art Museum, Atrium Madinat Jumeira Dubai, Extrahart Artists fair – Art Cologne satellite, Düsseldorf City Museum, Landesmuseum NRW, Winter Foundation Hamburg, Ministry of Osaka.
About the artist and his work numerous features were made, i.a. Cultural magazine Hans Kultur, Apex, Spiegel, Asahi Shinbun.
TV-Reports on German WDR, VOX, RTL and Japanese NHK, AsahiTV, localbroadcastings Osaka, Hiroshima and Italian Bergamo / Lucca, Dubai Gulf News and EN-TV Arabia / London
LINKS
Artforum Culture Foundation
Winter Stiftung
OAG Ostasiengesellschaft Tokyo
ArtExpert