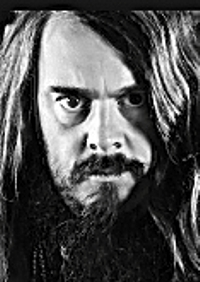 Jonathan Meese, born 1970 in Tokyo, is a German painter, sculptor, performance artist and installation artist based in Berlin and Hamburg. Meese's works include paintings, collages, drawings and writing. He also designs theater sets and wrote and starred in a play, De Frau: Dr. Poundaddylein – Dr. Ezodysseusszeusuzur in 2007 at the Volksbühne Theater. He is mainly concerned with personalities of world history, primordial myths and heroes. Jonathan Meese lives and works in Ahrensburg and Berlin.
To understand the freedom and success of Meese it is good to know his origin. His father, the banker Reginald Selby Meese, born in Newport (Wales), lived in Japan until his death in 1988. Since Meese only spoke English after his return to Germany, he had difficulties adapting. After a period spent in Scotland, his mother-in-law suggested him to study Economics.
Meese studied with Franz Erhard Walther, Daniel Richter, Martin Kippenberger, Horst Janssen, Vicco von Bülow alias Loriot and Otto Waalkes at the University of Fine Arts of Hamburg from 1995 to 1998, but he left the university without a degree. Since 1998 Meese has attracted attention with installations, performances and other actions on the art scene. At the Berlin Biennale, curated by Klaus Biesenbach, Hans-Ulrich Obrist and Nancy Spector, Meese met a broad public.
He has worked collaboratively with the painters Jörg Immendorff, Albert Oehlen, Tim Berresheim, Daniel Richter, Tal R and the composer Karlheinz Essl.