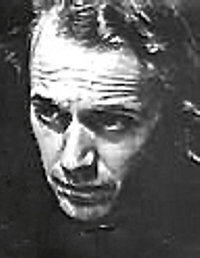 Alexis Akrithakis (Αλέξης Ακριθάκης) was a Greek painter, born in Athens in 1939. He met in 1956 the idiosyncratic philosopher George Makris who acknowlegdes his talent and encourages him to become a painter. He left Athens and moved 1958 to Paris to live a bohemian life within the cycles of the intelligentia of this period. In 1960 he returnef to Athens and joined the army. His first solo exhibitions were 1965 and 1966 in Thessaloniki and in Athens.
1968 he got a D.A.A.D scholarship and he moved to Berlin. When this scholarship ends, he decides to stay in Berlin. From 1970 onwards, he collaborated with gallerist Alexander Iolas, traveled back and forth between Germany and Greece, while he was actively involved in the Greek and international art scene with great success. His provocative and even extreme lifestyle is integrated in his artistic identity. Typical for his style is a border-line graphism, which can be regarded as a role model for the American artist Keith Haring. His artwork is continuously enriched with a multitude of narrative, poetic and symbolic motifs in lively spot colours (i.e. birds, boats, hearts, airplanes, arrows and his emblematic suitcase), as well as collages or mixed media and wooden constructions. Additionally, he created illustrations and designs objects and theatre stage sets.
In 1984 he returned to Greece and lived his last decade in Athens, where he died in 1994.
He had a major retrospective exhibition of Alexis Akrithakis works in Athens National Gallery. He had conducted many solo exhibitions in Greece and abroad (Berlin, Hamburg, Munich, Turin, Geneva) and has participated in major group exhibitions in Europe. Akrithakis dealt also with book illustrations, stage design and design.