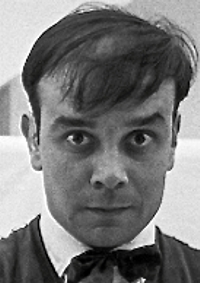 Yves Klein, born 1928 in Nice and died 1962 in Paris, was a French painter, sculptor and performance artist. He was a co-founder and leader of the Nouveau Réalisme art movement in France. In 1949, after coming back from a trip to Italy, impressed by the blue of the frescoes in the Basilica of Assisi, he began to paint his first monochrome paintings. He exhibited at home. In 1952 he learned Japanese at the École Nationale des Langues Orientales in Paris and traveled to Japan until 1953.
In 1955 he moved to Paris and founded the monochromes, which are monochrome images, in which he increasingly used a monochrome Ultramarin blue, which he eventually patted in 1960 under the designation International Klein Blue (IKB, = PB29, = CI 77007). His main mentor became the art historian and theorist Pierre Retany.
Yves Klein is regarded as an avant-garde artist and a precursor of Pop Art. He also made first performances. Klein wrote essays and shot several films. Above all he got famous for his monochrome pictorial compositions, especially those made in an Ultramarin blue, but also in gold and pink. Color psychological effect of this particular blue is mainly due to its pulling effect on the viewer, who feels formally drawn into the picture. From 1957, Klein developed the anthropometries with models that painted naked and soaked in blue paint the canvas with her body.
Important exhibitions were: documenta III and 4 Kassel, the first retrospective was at the Lange Krefeld Museum, later at the the Modern Art Museum, the Guggenheim Museum Bilbao, the Museum of Applied Arts (MAK) and the Center Pompidou