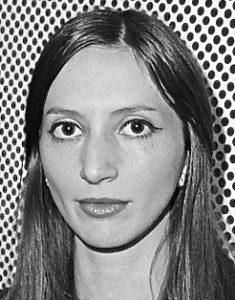 Tauba Auerbach, born 1981in San Francisco, is a visual artist working across many disciplines including painting, artists' books, photography, and sculpture. Her work operates in the gap between conceptual art, abstraction and graphic art. She lives and works in New York.
Auerbach grew up in San Francisco as the daughter of theater designers and graduated from Stanford University with a B.A. in Visual Art. Auerbach draws much of her inspiration from math and physics. Engaging a variety of media, ranging from painting and photography to book design and musical performance. Auerbach's recent work focuses on rotational symmetry, gesture, architecture, and theories about higher-dimensional space. Auerbach's actual works featured glass sculptures, acrylic paintings, 3-D printed sculptures and artists' books.
Exhibitions and purchases including Deitch Projects NYC, Rubin Museum of Art, Rubell Family Collection Miami (Fl), Whitney Museum of American Art, Guggenheim Museum, The National Museum of Women in the Arts (NMWA) Washington DC.