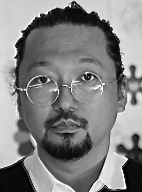 Murakami (村上 隆), born 1962 in Tokyo, was still trained in classical Nihonga painting. He received his degree and doctorate at the National University of Fine Arts and Music in Tokyo. In 2009, Murakami was called one of the hundred most influential people in the world. His artistic influence is undisputed, and he is also called Japan's Andy Warhol, which involves the pace of his art production as well as the revolutionary power of his art.
Japan Pop
His kitsch-colorful paintings and objects depict laughing flowers, atolls, and other themes are inspired by the Japanese manga and anime picture language. His sculptures, videos and objects are sometimes only cute, while other works are latently creepy and some, like the Lonesome Cowboy, who ejaculates into the room, as well as the comic girl HiroponBreasts press are by their overpriced eroticism at first sight very strange. Murakami calls 'superflat' his style at the border between art, design, pop culture and commerce, which makes him unmistakable throughout the world, because no other artist has blurred the boundaries so far. He became famous very soon for his collaboration with Louis Vuitton and Kanye West.
Exhibitions
The work of Murakami has been presented worldwide in major museum exhibitions, including the Fondation Cartier pour l'art contemporain in Paris and the Serpentine Gallery in London (2002); In the Museum of Contemporary Art in Tokyo (2001); Museum of Fine Arts, Boston (2001); Museum of Contemporary Art in Los Angeles (2007), Museum of Modern Art, Frankfurt and the Guggenheim Museum, Bilbao (2009). The large exhibition in the Palace of Versailles in France took place in 2010.
The artist lives and works in Tokyo, New York, and Los Angeles.