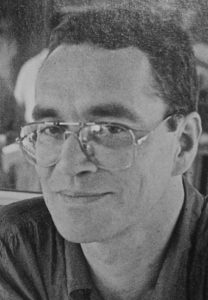 Stephan Runge, born 1947 in Porta Westfalica – Barkhausen, is a German artist. His oeuvre includes painting, drawing, object, installation, photography, film and music. He lives and works in Düsseldorf and Cologne. From 1965 to 1972 Stephan Runge studied at the Academy of Fine Arts in Düsseldorf with Joseph Beuys, who examined him as masterstudent. Runge works with archaic character systems and color codes, which he paints on glasses, mirrors, cloths and papers. When working on these different materials with acrylic, oil, pigments, watercolor and ink, he applies a technique, which he learned from his experience with photochemical processes. He like to combine his sculptural work, consisting of objets trouvés, iron, wood or stone, in exhibitions with his specific painting, drawing or slide projection. He finds forms, forces, and energies in nature.
Runge assisted Sigmar Polke in three exhibitions. 1986: 'Athanor', German Pavillion, XLII. Biennale di Venezia, production of the wall painting in the kitchen of the pavilion with hydrosensible pigments, which responded, depending on the humidity, with color changes between rosé and blue tones; 1988: ARC, Musée d'Art Moderne de la Ville de Paris with large wall paintings on convex black ground, executed in colorless, thermosensible color and in 1990: San Francisco Museum of Modern Art, monochrome painting of the wall niches in the skylight of the museum with the color pigments malachite, cinnabar, lapis lazuli and realgar.
In 1987, he was part of Brennpunkt Düsseldorf- Joseph Beuys, the academy, the general departure.1962-1987', Kunstmuseum Ehrenhof, Düsseldorf.
In 1993 he became Artist-in-Residence in Osaka, Japan. In the same year, he received the Special Prize of the International Triennial Competition of Painting, Osaka. In Japan, Runge produced large-format works on handmade paper and transparent silk from 1989-1993. In 1993 he took part in the exchange program for artist Art-Ex of Osaka Prefecture and received the special prize of Osaka Triennale '93 for his work Glory Sun of Death. In 1992 he took part in the documenta IX. Between 2005 and 2007 he created the seven-part painting cycle The Battle of Baghdad. Runge's works are attributable to individual mythologies.
Exhibitions and purchases in: Municipal Art Museum Bonn, Museum van Hedendaagse Art Ghent, Nordjyllands Kunstmuseum, Aalborg (DK), Staatliche Kunsthalle Baden-Baden, Kunstverein im Fridericianum Kassel, Galerie Erhard Klein Bad Münstereifel,
Gallery Max Hetzler Stuttgart, Academy of Arts Berlin, Venice Biennial, Palace of Fine Arts Düsseldorf, Daegu Art Museum Korea,
Municipal Museum of Art Kyoto, Museum of Arts and Crafts Tokyo, The Paper Museum Imadate (JP), documenta IX Kassel, Kunstmuseum Bern, Kunsthalle Düsseldorf, S.M.A.K. Stedelijk Museum voor Actuele Art Ghent, National Museum of Art Osaka.