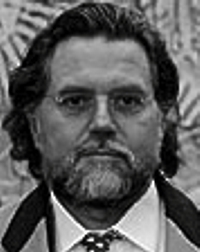 Stefan Szczesny, born 1951 in Munich, is a German painter, sculptor and photographer, who became known in the 1980s as a representative and protagonist of the Neue Wilde.
Szczesny traveled to the Caribbean for the first time in 1990, which crystallized as a further important point of reference for his work, On the island of St. Lucia important works were also made during these years.
In the years 1991 and 1992 Szczesny also devoted himself to theater. After taking his first steps in this direction in the 80s (he had already created stages for a Faust production in Munich), he took over the overall artistic design for the production of the opera Dark House by Robert HP Platz at the Bavarian State Opera, and the design for a production of Schiller's Kabale und Liebe, directed by Gert Pfafferodt.
In 1994 the artist moved into a studio in New York where he spent most of the year until 2001. The experience of the New York art scene prompted him to found the Szczesny Factory in 1996, which also owns his own publishing house. Originally founded in Cologne, the Szczesny Factory is now located in Berlin. The Factory is a company that allows the artist to implement larger art projects in collaboration with various companies.
In 2014, Szczesny's work was shown in a retrospective at the Pope's Palace in Avignon. Further exhibitions took place i.a. at the Kunsthalle Emden, Kunsthalle Bremen, Kunsthalle Mannheim, Kunsthalle Kiel, Rheinisches Landesmuseum Bonn.
Szczesny lives and works in Saint-Tropez, France.