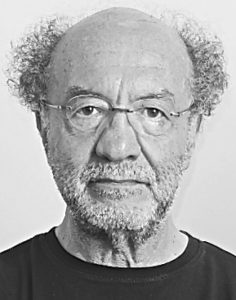 Sarkis Zabunyan, known as Sarkis, is a French artist of Armenian origin, born in Istanbul in 1938. He studied painting and interior architecture before moving to France in 1964. In 1967, he won the prize for painting awarded at the Paris Biennal. In 1969, he was invited by Harald Szeemann to take part in the exhibition When Attitudes Become Form, which has been famous ever since: "My work is always related to memory. Everything that I have experienced in my life is in it." Sarkis has been imagining scenes constructed from stories inspired as much by a sense of place – memories inherent to particular places – as his own personal memories. He uses a variety of media (e.g. watercolors, video and sculpture) and materials (e.g. neon, magnetic tape and copper) and confronts objects from different contexts or cultures. This has given his body of work a unique poetic dimension that reveals a profound humanism and a great familiarity with world history. Sarkis is influenced by artists like Kasimir Malewich, André Breton, Constantin Brancusi and as well by the German artist and art theorist Joseph Beuys.
Exhibitions and collections
Sarkis has exhibited at many international exhibitions: Documenta and the biennials in Venice, Sydney, Istanbul and Moscow. His works are collected by the Centre Georges Pompidou (Paris), Boymans Museum (Rotterdam), San Francisco Museum of Modern Art, and the Museum of Contemporary Art (Geneva).