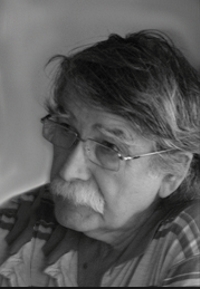 Sándor Rétfalvi, born in 1941, is a wellknown Hungarian sculptor. From 1959 to 1964 he studied at the Hungarian Academy of Fine Arts sculpture, his professors were József Somogyi, Iván Szabó and Pál Pátzay. Between 1968 and 1974 he was the artistic director of the Pécs Art Secondary School. In 1967, he was one of the founders and organizers of the Villány International Sculpture Creation. From 1982 to 1995 she was head of the department at the Janus Pannonius University, and from 1989 she was appointed head of the department head of the university-level drawing and visual professional training he organized, and from 1991 he worked as a university professor. From 2000 he was a professor at the Faculty of Arts at the Janus Pannonius University Faculty of Sculpture.
He studied the technique of wax-iron bronze casting on Amerigo Tot's side. He lives in Pécs and Nagykanizsa.
Rétfalvi is a prominent member of the sculptural era that came from József Somogyi's school. One of the decisive elements of his art is the expressive realist style. The attraction of nature plays an important role in his art, which can be called 'anthropomorphic sculpture'. He also regularly create coins and medals. From 1963 he regularly participates in the Autumn Fair of Vásárhely, and later at the National Biennial in Pécs. He is a member of the Association of Hungarian Fine Arts and Applied Artists and the Hungarian Association of Hungarian Artists.
His work is collected by Janus Pannonius Museum Pécs, St. Stephen's King Museum Székesfehérvár, PAC Austria and exhibited i.a. in
Rom, Hamburg, Cologne, Budapest, Switzerland, Poznán, Graz.