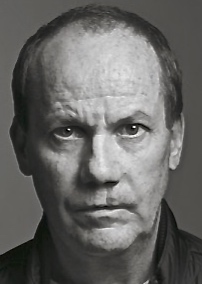 Richard Prince, born 1949, is an American painter and photographer. Prince began copying other photographers' work in 1975. His image, Untitled (Cowboy), a rephotographing of a photograph taken originally by Sam Abell and appropriated from a cigarette advertisement, was the first rephotograph to raise more than $1 million at auction when it was sold at Christie's New York in 2005. He is regarded as 'one of the most revered artists of his generation' according to the New York Times. In 2017, he generated controversy by returning a $36,000 payment he had received in 2014 for his portrayal of Ivanka Trump, claiming that he could not live with the idea of one of his works being in the collection of the Trump family.
Starting in 1977, Prince photographed four photographs, which previously appeared in the New York Times. This process of rephotographing continued into 1983, when his work Spiritual America featured Garry Gross's photo of Brooke Shields at the age of ten, standing in a bathtub, as an allusion to precocious sexuality and to the Alfred Stieglitz photograph by the same name. His Jokes series (beginning 1986) concerns the sexual fantasies and sexual frustrations of middle-class America, using stand-up comedy and burlesque humor. This photo is now displayed in the Whitney Museum of American Art.
Prince now lives and works in New York City.
He had main exhibitions at documenta 9 Kassel, Kunstverein für die Rheinlande und Westfalen, Düsseldorf; Museum Boijmans Van Beuningen Rotterdam, Kunsthalle Zürich, Saatchi Gallery London, Deichtorhallen Hamburg, Museum of Modern Art, New York, Kunstraum Neue Kunst Hannover, White Cube London, Guggenheim Museum New York. His works are collected by private collections and museums, including Modern Art Museum of Fort Worth Texas, Museum of Contemporary Art Chicago,
Museum of Contemporary Art Los Angeles, Walker Art Center Minneapolis, Kunstmuseum Basel, Museum für Gegenwartskunst Basel, SAFN Reykjavík, Sammlung Falckenberg Hamburg, Sammlung Reinking Hamburg, Sammlung Goetz München.