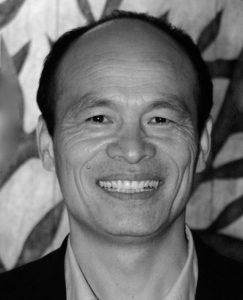 Ren Rong (Chinese 任 戎, Pinyin Rèn Róng), born 1960 in Nanjing, studied painting and graphic art of social realism. 1986 he decided to go to Germany, where he started at first a career as lecturer and curator, while studying on free at the art academy of Münster. Ren Rong is internationally known for its plant people. As a steel or iron sculpture, glossy or rust-red, wood or scissors cut, watercolor or print, wood, wax or lacquer work, the abstract-concrete hybrids stand for different statements from the subject of human life. In his iron sculptures symbols of the great cultures are incorporated. They reveal the unity of man and nature and penetrate to those underlying layers of consciousness from which every art form draws its nourishment. Ren Rong can grow up its diverse plant people from them, which he embeds as a sign of hope and positive energy into symbols of Eastern and Western cultures.
Additionally he is working also with private photographs and his own archive of well-known politicians (i.a. Mao Zedong) to arise relationships to the social present.
He lives and works mainly in Bonn as well as in Beijing and became an internationally known contemporary artist of Chinese origin.