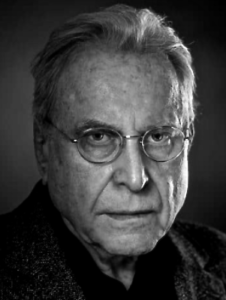 Peter Jacobi, born 11.11.1935 in Ploieşti, Romania, is a German sculptor and photo artist whose work is based on the aesthetic concept of Constantin Brancusi. But he is putting his ideas more on the feet through his preoccupation with history.
Jacobi studied sculpture from 1955 to 1961 at the Art Academy Bucharest. He had his first solo exhibition in 1965 in the Simeza Gallery, Bucharest. In 1970 he moved to Germany and received German citizenship. From 1971 to 1998 he held a professorship at the University of Applied Art Pforzheim. He also asserted himself internationally as an artist with a multifaceted work. His works have been shown at numerous exhibitions in Germany and abroad. He participated in the 9th Biennale of Antwerp in the Middelheim Museum in 1967 and at the 12th Biennial of São Paulo in 1973 (together with his former partner Ritzi Jacobi). Only after the end of the Ceausescu dictatorship he turned back in the 1990s to Romania, to exhibit in Bucharest, Craiova, Brasov, Sibiu and Timisoara.
The concept of Palimpsest
Peter Jacobi's work is dedicated to cultural memory, a work with and to the memory of a time that also decisively determines his engagement with the present. Each of his abstract constructive sculptures, each of his textile works, each of his photographic works carries a knowing cognition.
Jacobi's work can be defined in three elementary creative phases: 1960 - 1970, sculptural works with steel, marble and concrete. Additional he made large-format textile reliefs, which were designed and realized in close collaboration with his partner Ritzi Jacobi. Both are among the pioneers of this special art movement with textile reliefs. These works maintain a strong position in contemporary textile art and are kept in important museums worldwide. Vital materials such as horsehair, sisal or goat hair yarn are composed into freely composed sculptures. At the same time, marble reliefs are being created at the beginning of the 1970s in which Peter Jacobi transfers soft textures into hard stone.
Later in the seventies, exactly from 1979 on, the artist experimented with black and white photography and expanded additionally the classical black and white by chemical tints and over paintings. Thematically, In his photo works he also dealt with the culture of remembrance.
At the beginning of the 1980s, large-scale sculptures were created, revolving around the subject memorial to the victims of the Second World War. The important Holocaust Memorial in Bucharest - inaugurated in 2009 - is the result of an international finding committee and one of only a few major monuments of its kind worldwide. This huge work ensemble can be seen as the artists manifest for his more than 30-year struggle with the issues of war and Holocaust of the Jews, Roma and other humans who where murdered by the Nazis. Jacobi opposes a pure beauty of the geometric form to the evil of our world.
Exhibitions
Selection of solo exhibitions (with Ritzi*): Venice Biennale Romanian Pavillion*, Bellerive Museum Zürich*, National Gallery Melbourne*, The Institute of Arts Detroit*, Museum of Conteporary Arts Philadelphia*, LACMA -The Los Angeles County Museum of Art*, Museé d'art modern de la Ville de Paris*, ONDEA Bukarest, Muzeul de Arta Brasov, Muzeul National de Arte Bruckenthal Sibiu, Centrum Rzeźby Polskiej w Orońsku, Donauschwäbisches Zentralmuseum Ulm, Muzeul National de Arta al Romanei Bukarest.
Selection of joint exhibitions: Musee Cantonal des Beaux- Arts Lausanne, 12.Biennal Sa Paolo Brazil, Museo Galouste Gulbenkian Lisboa , Power Institute of Fine Arts Los Angeles, Museum of Contemporary Art Salt Lake City, Museum of Fine Arts, Vancouver Art Gallery, The National Museum of Modern Art Kyoto*, The National Museum of Modern Art Tokio*, Lehmbruck Museum Duisburg, Lehmbruck Museum Mannheim, Icheon South Korea, MNAC Muzeul National de Arta Contemporana.
Collections
Selection of public collections: Staatliche Museen Preussischer Kunstbesitz Berlin, MNAC - Muzeul National de Arta Contemporana Bukarest, Kunsthalle Mannheim, The Detroit Institute of Arts, Villa Merkel Esslingen, Banco di Napoli New York, Walker Hill Art Centre Seoul South Korea, Guilin South China The Yuzi Sculpture Parc, Staatsgalerie Stuttgart, Forest Sculpture Garden Bejing China, Haus der Kunst Zürich, MUMOK Sammlung Ludwig Wien.
Jacobi was honoured for his great artistic work among others with the Prize of the Biennale of São Paulo [(1973), Erich Heckel Prize for Lifetime Achievement (2008) and with the Romanian Order Cultural merit.
LINKS