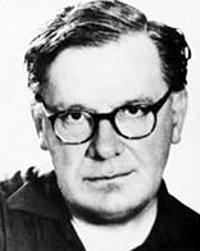 Nikos Engonopoulos (Νίκος Εγγονόπουλος), born in Athens in 1907, was a modern Greek painter and poet. He is considered the introducer and principal exponent of Surrealism in Greece, member of the so-called Generation of the Thirties. He combined elements and iconography from a great span of the Greek tradition, from mythology and antiquity to Byzantium, modern times and the contemporary period in an unconventional fashion, in an often bitterly ironic or humorous vein. Evident in his paintings is an erotic mood, incarnated in the male and female nude figures that inhabit them. His work as a writer also includes critique and essays.
In 1923, he studied for a period of four years in Paris. In 1932 he joined the Athens School of Fine Arts, where he studied with Konstantin Parthenis. During that time he met also other important artists, the poet Andreas Embirikos and painters such as Giannis Tsarouchis, Giannis Moralis and Giorgio de Chirico. The latter was himself fascinated by the new transformation of surrealism of Engenopoulos. Along with Giannis Tsarouchis, he worked as assistant for the monumental mural that Kontoglou made in his house, today in the National Gallery. In 1954, he exclusively represented Greece at the Biennale of Venice with one hundred of his works, and one year later, he participated in the Biennale of Sao Paulo. He also participated in all the exhibitions of the group "Armos," of which he was founding member (1964). He travelled in many European countries and made independent art studies in Munich and cities in Italy.
Works by him are in international collections and museums. His works are quite rare in the market with constantly growing prices. Engonopoulos died in 1985.
LINKS: