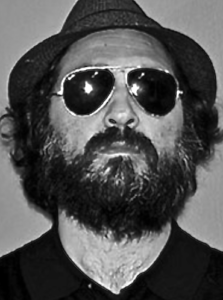 Mr Brainwash is the moniker of French-born (1966), Los Angeles-based filmmaker and Pop artist Thierry Guetta. He has spent the the last decade attempting to make the ultimate street art documentary. Meanwhile, inspired by his subjects, he started hitting the streets, from Los Angeles to Paris. A provocative figure in the world of street art, Mr. Brainwash practices an irreverent brand of appropriation characterized by the use of copyrighted images from history, popular culture, and art history. The artist subtly alters the picture or its context, mischievously undermining the tone of the source material. His work hinges on the idea that anything is possible in his practice. "Art has no walls. Anybody can be an artist," he says. "Art has no rules. There's no manual."
 In June 2008, Mr. Brainwash made his art show debut with one of Los Angeles's most memorable solo exhibitions: Life is Beautiful, held at the historic CBS Studios on Sunset Boulevard. Originally scheduled to open for only two weeks, the exhibit was extended for three months, attracting more than 30,000 visitors.
Mr. Brainwash's work continued to garner recognition from art collectors and street-art enthusiasts alike. By 2009, Madonna approached him to design the cover of her greatest hits compilation entitled, Celebration. In 2010, Mr. Brainwash made his New York solo debut as he unveiled Icons, a 15,000 square-foot exhibition in the heart of Manhattan's meatpacking district. The show featured paintings and silk screens of world icons, portraits of music legends constructed of broken records and large-scale sculptural installations such as a giant boom box and a NYC cab in a life-sized Matchbox packaging. Not only were major collectors acquiring Mr. Brainwash's works but also prestigious auction houses including Christie's and Phillips.
Considered as one of the most prolific and talked about artists of today, Mr. Brainwash is also the subject of Banksy's documentary Exit through the Gift Shop, which debuted at the Sundance Film Festival in January 2010. Using Guetta's street art footage, Banksy eventually turned the camera on the only man who ever filmed him. The collaboration resulted in a remarkable documentary that is part of a personal journey and part of an exposé of the art world with its mind-altering mix of hot air and hype.