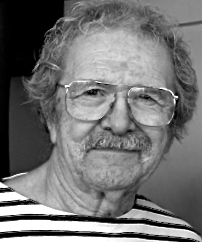 Melvin John Ramos born 1935 to Portuguese-Azorean immigrants in Sacramento, California. He studied art at Sacramento Junior College and Sacramento State College. He lived and worked in Oakland,California, died in 2018.
As a student of Wayne Thiebaud, Mel Ramos was close to the so-called Bay Area Figurative School, which, from the 1950s onwards, was based on Abstract Expressionism. In 1961, Mel Ramos started to use for his paintings comic characters such as, Batman, Superman or The Specter. In 1963, he turned to the central theme of his work: female superheroes like Wonder Woman and pin-up girls in typical arrangements from advertising, which shall to sell products by representation of provocative female sexuality. In this way, pictures were created, in which he draped women in an erotic pose on painted brand products, parodying the trivial glamour gesture of a commercial mishap which stimulates the lust for pleasure with sexual stimuli.
These commercial pin-ups should remain the trademark of Mel Ramos. He was critized for his explicit women's image, at first in the 1960s from a conservative, later also from a feminist side, despite Ramos' insistence that the works are the result of Surrealist-inspired "absurdist conjunctions". In addition to his more controversial nudes, Ramos is also known for his comic book inspired works that incorporate popular characters from stories such as Batman, Superman and Wonder Woman.
Ramos had shown his work internationally and had been featured in numerous museums.