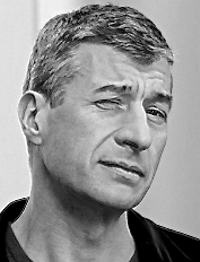 Maurizio Cattelan, born in 1960, Padua, is an Italian artist. He is known for his satirical sculptures, particularly La Nona Ora (1999) (The Ninth Hour), depicting Pope John Paul II struck down by a meteorite, Him (2001) and Love Lasts Forever (1997). Cattelan started his career in the 1980s making wooden furniture in Forlì (Italy).
Cattelan's art makes fun of various systems of order and he often utilizes themes and motifs from art of the past and other cultural sectors in order to get his point across. Frequently morbidly fascinating, Cattelan's humour sets his work above the visual pleasure. For America, a siolo show at the Solomon R. Guggenheim Museum he replaced the toilet in the museum with a fully functional replica cast in 18-karat gold.
In 2009, Cattelan teamed up with Italian photographer Pierpaolo Ferrari to create an editorial for W Magazine's Art Issue. In 2010, they founded the magazine Toiletpaper, a bi-annual, picture-based publication.
Exhibitions
Cattelan's work has been on view in numerous solo exhibitions, at the Migros Museum für Gegenwartskunst Zurich; Artpace San Antonio Texas, Centre Georges Pompidou, Kunsthalle Basel, Museum of Modern Art NYC, Solomon R. Guggenheim Museum NYC, Museum Ludwig Cologne. He had participated at Manifesta 2 and many times in the Venice Biennale.