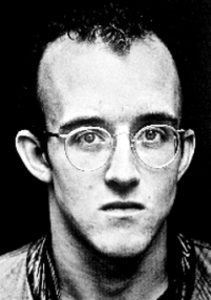 American artist Keith Haring was best known for his graffiti-inspired drawings, which he first made in subway stations and later exhibited in museums. He was born on May 4, 1958, in Reading, Pennsylvania. In 1978 he moved to New York City and began using the city as his canvas, making chalk drawings in subway stations. His art was eventually seen everywhere from public murals and nightclubs to galleries and museums around the world. He was also known for his activism in promoting AIDS awareness. He died of AIDS-related complications on February 16, 1990, at age 31.
As a child, Haring was fascinated by the cartoon art of Walt Disney and Charles Schultz and the illustrations of Dr. Seuss. He spent many hours drawing with his father, an engineer whose hobby was cartooning. After graduating from high school in 1976, Haring briefly attended the Ivy School of Professional Art in Pittsburgh, dropping out after two semesters. In 1978, he decided to return to school, moving to New York City to enroll at the School of Visual Arts.
When Haring arrived in New York, it was home to a thriving underground art scene. Haring befriended fellow emerging artists like Jean-Michel Basquiat and Kenny Scharf, who shared his interest in the colorful and transgressive graffiti art of the city's streets. Haring and these other artists organized exhibitions at downtown nightclubs and other alternative locations, where art, music and fashion all came together in a dynamic mix.
Beyond the clubs, riding the subway, he noticed the black paper rectangles of empty advertising panels on station walls. Using white chalk, he began filling these black panels with simple, quickly drawn pictures. His signature images included dancing figures, a "radiant baby" (a crawling infant emitting rays of light), a barking dog, a flying saucer, large hearts, and figures with televisions for heads. These graffiti drawings attracted the attention of New York commuters, as well as the city authorities: Haring was arrested for vandalism on numerous occasions.
Haring soon began to apply his universally recognizable imagery to freestanding drawings and paintings. The energy and optimism of his art, with its bold lines and bright colors, brought him popularity with a wide audience. He had his first solo exhibition in 1981, at the Westbeth Painters Space in Manhattan. In 1982 he began to show his art at the Tony Shafrazi Gallery, which would represent him for the rest of his career. Throughout the 1980s, Haring's work was exhibited widely both within the United States and internationally. He also collaborated with other artists and performers, including Andy Warhol, Grace Jones and William S. Burroughs. On his trips to Europe he met and influenced the artscene in Cologne, Düsseldorf, Hamburg, Paris, Milano.
Always wanting to make his art more accessible, Haring opened a retail store called it the Pop Shop in New York City's SoHo neighborhood in 1986; the shop sold posters, T-shirts and other affordable items featuring Haring's signature designs. Over the brief span of his career, the artist completed more than 50 public works, including the anti-drug mural Crack is Wack in a Harlem playground and an illuminated, animated billboard of his radiant baby image for New York's Times Square. He also hosted numerous art workshops for children.
In 1988, Haring was diagnosed with AIDS. The following year, he created the Keith Haring Foundation to support children's programs and organizations dedicated to raising AIDS awareness. Keith Haring died in New York 1990 of AIDS-related complications. His art is still exhibited worldwide, and many of his works are owned by prestigious museums, including the Art Institute of Chicago, the Museum of Modern Art in New York City and the Centre Georges Pompidou in Paris, France. Haring's art, with its deceptively simple style and its deeper themes of love, death, war and social harmony, continues to appeal strongly to viewers. Works by the artist are still in numerious private artcollections all over the world.