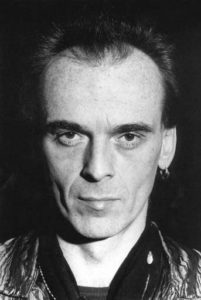 Jürgen Klauke, born 1943 in Kliding near Chochem/Mosel, is a German artist. Beginning in the 1960s, he started to make his own body the instrument and projection surface of his artistic ideas. He also experimented with minimalism and surrealism in drawings about his depth psychological reflections. He lives and works in Cologne.
He studied graphic arts at the Kölner Werkschulen from 1964 to 1970; toward the end of his studies he began focusing on photography as a medium of artistic expression. Klaukes early works were mainly concerned with the human body and its sexual identity. In the early 1970s he was one of the first to recognize the possibilities of 'photography' as an artistic medium of expression and thus he became one of the most striking representatives of the later body art. His often provocatively works are now an integral part of the German photographic art scene. But Klauke is as well a talented draftsman with a strong approach to Art Brut in his style. Over many years he communicated in texts and drawings his intimate feelings and views. Klaukes work usually consists of whole thematic cycles and performances. From 1994 to 2008 Klauke was professor of photography at the Academy of Media Arts, in Cologne. Since 2013 he is member of the Academy of sience and arts Nordrhine-Westfalen.
Jürgen Klauke

Exhibitions
He participated at documenta 8 and had solo shows i.a.: 1987 Museum Ludwig, Köln; 1988 Prosecuritas, Very de Nada, Halle Süd, Genf; 1992 Sonntagsneurosen, Staatliche Kunsthalle, Baden-Baden; 1997, Phantomempfindung, The Museum of Modern Art, Saitama & Shiga, The Yamaguchi Prefectural Museum of Art, Yamaguchi, Japan; 2010 Jürgen Klauke. Aesthetic Paranoia, ZKM / Museum of Contemporary Art, Karlsruhe, then: Museum der Moderne Salzburg; 2016 first solo gallery exhibition in New York City; 2017 Jürgen Klauke – Selbstgespräche. Zeichnungen 1970 – 2016, Max Ernst Museum, Brühl.
LINKS