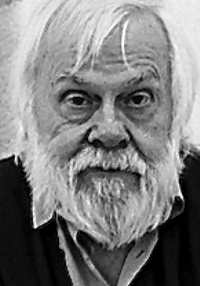 John Anthony Baldessari, 1931 – 2020, was an American conceptual artist. He known for his work featuring found photography and appropriated images. He lived and worked in Santa Monica and Venice, California, where he died on 2nd of January.
Initially a painter, Baldessari began to incorporate texts and photography into his canvases in the mid-1960s. In 1970 he began working in printmaking, film, video, installation, sculpture and photography. He has created thousands of works that demonstrate—and, in many cases, combine—the narrative potential of images and the associative power of language within the boundaries of the work of art. His art has been featured in more than 200 solo exhibitions in the U.S. and Europe. His work influenced Cindy Sherman, David Salle, A.P. Astra, Michael Jansen, Martin Kippenberger, Mike Kelley, Barbara Kruger among others.
In 1959, Baldessari began teaching art in the San Diego school system. He kept teaching for nearly three decades, in schools and junior colleges and community colleges, and eventually at the university level. When the University of California decided to open up a campus in San Diego, the new head of the Visual Art Department, Paul Brach, asked Baldessari to be part of the originating faculty in 1968. In 1970, Baldessari moved to Santa Monica, where he met many artists and writers, and began teaching at CalArts. His first classes included David Salle, Jack Goldstein, Mike Kelley, Ken Feingold, Tony Oursler, Matt Mullican.
Much of Baldessari's work involves pointing, in which he tells the viewer not only what to look at but how to make selections and comparisons, often simply for the sake of doing so. Baldessari's Commissioned Paintings series (1969) took the idea of pointing literally, after he read a criticism of conceptual art that claimed it was nothing more than pointing. Beginning with photos of a hand pointing at various objects, Baldessari then hired amateur yet technically adept artists to paint the pictures. He then added a caption A painting by [painter's name] to each finished painting. In this instance, he has been likened to a choreographer.
Baldessari's works are part of major public and private collections, including the Museum of Modern Art, the Guggenheim Museum, the Los Angeles County Museum of Art, the Hirshhorn Museum and Sculpture Garden and the Broad Collection.