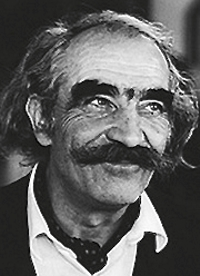 Jean Tinguely (1925 in Fribourg I died 1991 in Bern) was a Swiss painter and sculptor. He is  Tinguely's  
In 1952 he moved to France with his first wife, Swiss artist Eva Aeppli, to pursue a career in art. He belonged to the Parisian avant-garde in the mid-twentieth century and was one of the artists who signed the New Realist's manifesto (Nouveau réalisme) in 1960.
Process art
His best-known work is a self-destroying sculpture titled Homage to New York (1960). Only partially self-destructed at the Museum of Modern Art, New York City, it is part of his process art like his later work, Study for an End of the World No. 2 (1962), which detonated successfully in front of an audience gathered in the desert outside Las Vegas.
Cooperations
In 1971, Tinguely married his second wife, Niki de Saint Phalle. They collaborated on several artistic projects.
Tinguely Museum Basel
Among other collections his estate is permenantly exhibited in the Tinguely Museum Basel. The museum's temporary exhibitions show works from Tinguely's friends and contemporaries such as Bernhard Luginbühl, Niki de Saint Phalle, Yves Klein, Vera Isler, among others.