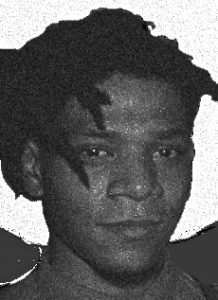 Jean-Michel Basquiat, born 1960 and died 1988, was an American artist. Basquiat first achieved fame as part of SAMO©, an informal graffiti duo who wrote enigmatic epigrams in the cultural hotbed of the Lower East Side of Manhattan during the late 1970s. At this place and at these times hip hop, post-punk and street art movements had coalesced. By the 1980s, he was exhibiting his neo-expressionist paintings in galleries and museums internationally.
Basquiat's art focused on 'suggestive dichotomies', such as wealth versus poverty, integration versus segregation, and inner versus outer experience. He appropriated poetry, drawing, and painting, and married text and image, abstraction, figuration, and historical information mixed with contemporary critique. Basquiat used social commentary in his paintings and attacked on power structures and systems of racism, while his poetics were acutely political and direct in their criticism of colonialism and support for class struggle.
Basquiat presented to Andy Warhol few samples of his new work in 1981, which impressed the superstar. Shortly after the two artists collaborated. Same year in December, René Ricard published The Radiant Child in Artforum, which brought Basquiat to the attention of the art world. In March 1982 he worked in Modena, Italy, and from November, Basquiat worked with Larry Gagosian for a first great show in 1983 at Gagosian Gallery West Hollywood. He brought along his girlfriend, then unknown aspiring singer Madonna. During this time he took considerable interest in the work that Robert Rauschenberg was producing at Gemini G.E.L. in West Hollywood, visiting him on several occasions and finding inspiration in the accomplishments of the painter. In this time he came also in contact and worked shortly together with David Bowie and George DuBose, who was always in the center of the scene. In 1985, he was featured on the cover of The New York Times Magazine in connection with an article on the newly exuberant international art market.
When Andy Warhol died on February 22, 1987, Basquiat became increasingly isolated. He died of a heroin overdose at his art studio at age 27.
Exhibitions and purchases
Fruitmarket Gallery, Edinburgh; Institute of Contemporary Arts, London; Museum Boijmans Van Beuningen, Rotterdam. The Whitney Museum of American Art held a first retrospective of his art in 1992. Till today he had exhibitions including Museum Boijmans Van Beuningen Rotterdam, Kestnergesellschaft Hannover, Menil Collection Houston, Brooklyn Museum New York, Museum of Contemporary Art, Los Angeles. On the artmarket he became at last one of the most expensive contemporary artists.