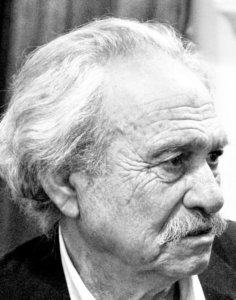 Giannis Kounellis (Γιάννης Κουνέλλης), born 1936 I died 2017, was a Greek contemporary artist based in Rome and Athens since 1956. A key figure associated with Arte Povera, he had studied at the Accademia di Belle Arti in Rome.
From the years of 1960–1966, Kounellis went through a period of only exhibiting paintings. This time and his paintings became later an important basis also for his performances. In some of his first exhibitions, Kounellis began stenciling numbers, letters, and words onto his canvases often reflecting advertisements and signs seen on the street. In 1960 he began to introduce found sculptural objects such as actual street signs into his work, exhibiting at Galleria La Tartaruga. The same year he donned one of his stencil paintings as a garment and created a performance in his studio to demonstrate himself literally becoming one with his painting. This newfound convergence of painting, sculpture, and performance was a natural development to cross borders for Kounellis. From 1961 on he began to paint on newspapers to reflect his feelings towards modern society and politics. In 1963, Kounellis introduced found objects in his paintings, among them live animals (Horses) but also fire, earth, burlap sacks, gold. He replaced the canvas with bed frames, doorways, windows or simply the gallery itself. In 1967, Kounellis became officially associated with Art Povera, a movement theorized by curator Germano Celant as a major shift from work on flat surfaces to installations. Kounellis participated in the exhibition Arte Povera – e IM Spazio at the La Bertesca Gallery in Genoa curated by Celant. This exhibition brought together artists whose works were concerned with the space between art and life, and nature and culture. Kounellis' work from the 1980s on, which also consisted of sculptures and performances using unusual materials, traveled all over Europe. In 1974 Jannis Kounellis performed with Edward Kienholz, Wolf Vostell, Allen Kaprow and other artists in Berlin at the ADA – Aktionen der Avantgarde. He also looked beyond the gallery environment to historical, mostly industrial sites. In 1997, Kounellis installed thirteen wardrobes and two doors that were sealed in lead along a scaffolding ledge that blocked the entry to a central hall.
Kounellis stated that incidental adjustments are certain as aspects that can indicate the human liberty of life.
His work has become integral to numerous renowned, international museums' collections.
Links:
Wikipedia