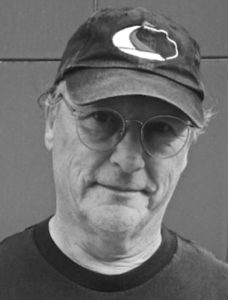 George DuBose, born 1954 in Morocco of Irish and American parents, was educated in US. He started consequently his photographic career in New York City within the sunrise of 'American culture revolution'. He worked most of his life in New York, later on alternating in Europe. DuBose has been living in Cologne, Germany, and the Netherlands for several years.
He became one of the most iconic living music and art photographers. George Dubose photographed and designed more than 300 album and single covers for such diverse artists like the Ramones, Kid Creole and the Coconuts, XCLAN, RunDMC and Melissa Etheridge. More than fifty of his projects have attained gold or platinum status. His first published music photograph was a self-printed street poster of the B52s, which he photographed in 1978 and that was purchased two years later for the band's debut album cover.
The Work of George Dubose
DuBose has received many accolades. In 2009 The New York Times said, "DuBose is one of the most important album designers in the past 40 years." Bonafide magazine in the UK has called him "The Godfather of Hip Hop Photography." He was there when rap broke, before it was called hip-hop. He was behind the camera for Biggie's first professional photo shoot. His photostudies of Madonna's famous Boston performance became part of Madonn's ingenious history. While working with Cold Chillin' Records, he immortalized Biz Markie, Big Daddy Kane, Masta Ace, Kool G Rap and Roxanne Shante. And the list just grew, including the likes of Run-DMC and Mobb Deep.
He was as well familiar with the art scene and close to Andy Warhol, Jean-Michel Basquiat, Keith Haring, Rammelzee and others. Dubose was on the front lines, photographing artists who would influence decades of style and sound. His work became an essential part of contemporary culture and is collected by international public and private collections. Limited editions are published by ArtForum Editions.
LINKS :
www.george-dubose.com
Youtube