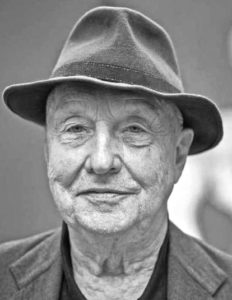 Georg Baselitz is the alias of Hans-Georg Kern, born 1938 in Deutschbaselitz (now a part of Kamenz in Saxony, Germany. Baselitz is a neo expressionist painter and sculptor.
In 1955, he applied to study at the Kunstakademie in Dresden but was rejected. In 1956, he successfully enrolled at the Hochschule für bildende und angewandte Kunst in East Berlin. He studied with professors Walter Womacka and Herbert Behrens-Hangler. In this time he got to know Peter Graf and Ralf Winkler (later known as A. R. Penck), with whom he hold a lifetime friendship. But regarding the socialistic system, he was expelled for 'sociopolitical immaturity' after one year.
In 1957, he enrolled at the Hochschule der Künste in the western part of Berlin. In 1961, he attended Hann Trier's master class and completed his studies in the following year. Hann Trier's classes were described as a creative environment largely dominated by the gestural abstraction of Tachism and Art Informel. At the Hochschule der Künste Baselitz immersed himself in the theories of Ernst Wilhelm Nay, Wassily Kandinsky and Kasimir Malevich. During this time he became also friend with Benjamin Katz. Primary artistic influences at this time are described as Jackson Pollock and Philip Guston.
In 1957, Baselitz produced his first original works in a distinct style of his own, among them the imaginary portraits Onkel Bernhard. In the same year, he started on the Rayski-Kopf series. In 1961, he adopted the name Georg Baselitz as a tribute to his hometown. In 1963, Baselitz's first solo exhibition at Galerie Werner & Katz, Berlin, caused a public scandal. Two of the pictures, Die große Nacht im Eimer (The Big Night Down The Drain) (1962/63) and the Nackter Mann (1962), were seized by the public prosecutor, after a friend had announced a report in a local newspaper – a self-fulfilling, intentional scandal. The ensuing court case did not end until 1965.
Baselitz spent the spring of 1964 at Schloß Wolfsburg and produced his first etchings in the printing shop there, which were exhibited later that year. The next year, he won a six-month scholarship to study at the Villa Romana in Florence. After returning to West Berlin, he worked until 1966 on the Helden group, which includes the large-format composition Die großen Freunde. Through early 1969, he produced further the large-format Waldarbeiter paintings. In 1969, using Wermsdorfer Wald by Louis-Ferdinand von Rayski as a model, he painted his first picture to feature an inverted motif: Der Wald auf dem Kopf. He exhibited regularly at Munich's Galerie Heiner Friedrich. Most of the works he produced during this time were landscapes themed as pictures-within-a-picture. In 1970, at the Kunstmuseum Basel, he had the first retrospective of drawings and graphic works. In the 1970s, Baselitz became very famous for his upside-down images. At the Galeriehaus in Cologne's Lindenstraße he had the first exhibition of paintings. In 1972 he participated documenta 5 in Kassel. He visited Brazil, participating the 13th Biennale in São Paulo. His work was exhibited in New York for the first time in 1981. By 1982, he spent more time to sculpture, in addition to several exhibitions. In 1983, he began using Christian motifs in much of his artwork, and completed the major composition Nachtessen in Dresden. In the same year, he took up a new professorship at the Hochschule der Künste Berlin. In 1986, in recognition of Baselitz's achievements, he was awarded the Kaiserring by the city of Goslar. Through the 1980s, Baselitz's work was exhibited frequently in Germany. In 1989, the title Chevalier dans l'Ordre des Arts et des Lettres was conferred upon Baselitz by French Minister of Arts Jack Lang. In 1990, at the Nationalgalerie im Alten Museum in Berlin, the first major exhibition of Baselitz's works in East Germany was presented. 2009-10 ,  and Staatliche Kunsthalle Baden-Baden exhibited a comprehensive survey of the artist.
Throughout his career, Baselitz has varied his style, ranging from layering substances to his style since the 1990's, which focuses more on lucidity and smooth change
Since 2013, Baselitz lives in Salzburg and he obtained Austrian citizenship in 2015.