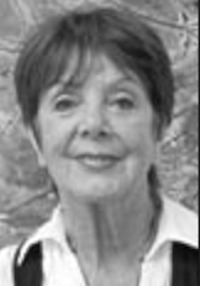 Eva Ohlow is a multimedia artist, born 1940 in Cologne. She studied 1959 – 1966 at the universities of applied arts Cologne and Wuppertal. 1966 – 1979 she worked as an assistant to her father, the artist Prof. Hubert Berke. Very much interested in foreign cultures, she travelled i.a. to North India, central Africa, Congo, Mali, Burkina Faso and Ghana. Her art and ethnological projects were about fetish places, Pygmean tattoos and water.
The artist prefers extraordinary materials, creating pictures and objects from rubber, steel plate, iron, aluminum, acrylic glas, photographs. Her work is moving between painting and sculpture – three-dimensional and flat, sculptural and painterly at the same time.
No matter whether installation, objects, art in building, painting or photography – her central theme is the human beeing and the basics of his life. Communication in different cultures is another focal point that interests the artist. "I want to understand foreign things in my works and hope that the unknown will understand me."
The work of Eva Ohlow can be seen in museums, galleries, public spaces or even private collections. She has been participated at Gulf Projects. Ohlow is represented at major exhibitions as well on trade fairs nationally and internationally.