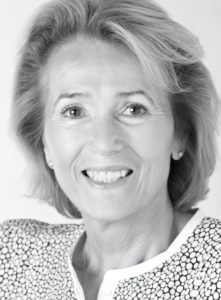 Corinna Zieleke, born in the Lüneburg Heath, living in Cologne since 1967, is a visual artist and works as a psychotherapist and supervisor.
For many years she has been pursuing her own diaphanous and lyrical style with specific acrylic and oil paintings, to which the term Emotional Painting is aptly applied. However, she expressly does not only include psychological descriptions of nature in her works, but also explicitly represents an autobiographically feminine free art that is surrounded by a very special magic.
She began her artistic development as an autodidact; later, however, from 2003, she has studied at the Bad Reichenhall Art Academy and the Vienna Art Factory. Her main teachers were the Austrian painters Gerhard Almbauer and Robert Zielasco, who instructed her the necessary tools and techniques to visualize her artistic ideas. Further inspiration she found in Jerry Zeniuk, Katharina Sieverding and Leiko Ikemura, among others.
Diaphanous and lyrical style for emotional paintings
Corinna Zieleke's paintings are basically non-representational, but often associate landscapes and snapshots of the sky. Inspired by experiences in nature, e.g. on Fuerteventura, Sylt or Monet's gardens, images in the finest colour nuances are created from subjective perception. Her oeuvre is expanded to include diaphanous abstract paintings, created with powerful gestures using autonomous heaps of paint. She develops these abstractions as a process using different materials, which condense into an anachronism, a two-dimensional pictorial composition with depth and space. Memories of Otto Piene's smoke pictures are awakened, similarities in comparisons to the photo series "Freischwimmer" by Wolfgang Tillmans are impressive.
The artist is working alternately in Cologne, southern Germany, Austria and Switzerland. She is represented in numerous public and private collections.
Awards: Palm Art Awards 2020
Exhibitions (actual): 2022 The female view of the world, art salon Kunststücke by Dettmer, open studio in Cologne; Art Association Frechen, group exhibition.
Literature: Emotional Paintings, ed. Peter Merten, ArtForum Studio Editions 2022
LINKS:
Homepage
Winter Stiftung Hamburg
Art Projects KunstSücke
Versöhnung der Werte