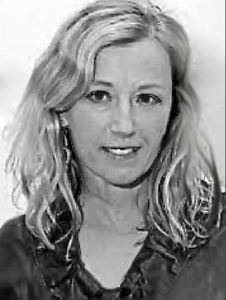 Cindy Sherman was born in Glen Ridge, New Jersey in 1954. In the late 1970s, Sherman began a series of black and white photographs, which she named Untitled Film Stills, (1977 to 1980), and were first exhibited at the Contemporary Art Museum in Houston, Texas in 1980. The series cemented her position in post-modern photography. In almost all of her works, Sherman acts as model, photographer, and director, and alters her appearance beyond recognition through makeup, prosthetics and costumes.
Although she began her career using black and white photography, Sherman transitioned to color film in the early 1980s. Her use of costume and makeup challenged the way in which portraiture was considered. She further challenged conventional means of viewing the human form in 1992 with her Sex Pictures series, which involved life-sized prosthetics as models in contorted and gender-crossing positions. In her recent work, Sherman has reintroduced herself as the model. From fairytales and history portraits to horror films and the nostalgia of the 1950s and 1960s films, Sherman consistently examines a woman's role in society and questions the ways in which the viewer looks at and identifies with the woman portrayed.
Her work has been shown throughout the United States and Europe, and Metro Pictures in New York has shown her work since 1980. In 1997, the Museum of Contemporary Art in Los Angeles, California held a retrospective of her work.
In 1999 the average selling price for one of her photographs was $20,000 to $50,000, seemed to be with in a male art artmarket a hefty sum for a female photographer. But even more ground-breaking was a 1999 Christie's auction in which one of the photographs from Film Stills sold for a reported $190,000. This bid was perhaps inspired by the Museum of Modern Art's lead: in 1996, they purchased a complete set from Film Stills for one million dollars. These prices are indicative of Sherman's further huge level of success, both critically and financially.