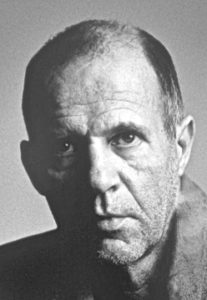 Claus Otto Paeffgen, born in Cologne in 1933, studied law in Cologne and Berlin until 1962. It was not until 1970 that he began to paint and create objects. Paeffgen is well-known for his ironically commented outlines of photos and newspaper excerpts. These are the contours of newspaper images that are projected and reworked on canvas. In his objects he transformed found things. Recurrent motifs of these objects are: heart / arrow, mouse, loop, moon and question marks. Paeffgen traces the outlines of objects with wire in the wraps. The raw material for this is made up of everyday objects, often banal things wrapped with thick wire. Paeffgen successively deals many of these "conversions" with. In the 1990s he produced painting groups, including fruit boxes (objects in color) and acrylic on canvas (pictures with titles), as well as multiples in the form of unique pieces in limited series.
Paeffgen's sister was Nico (Christa), Warhol's muse and an icon of pop culture.
He had numerous museum and gallery exhibitions. 1999 the museum Ludwig in Cologne dedicated a retrospective to him.
He lived in Cologne, where he died in 2019.
LINKS