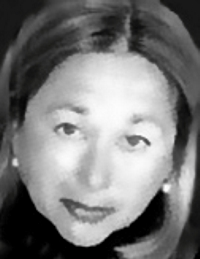 Astrid Klein, born 1951 in Cologne, is a German painter, graphic artist, designer and photographer. In her photo-collages, the photo and writing artist combines also painting and light objects.
From 1973 to 1977 she studied at the College of Art and Design in Cologne. Since 1993 she holds a professorship at the Academy of Graphic Arts and Book Design in Leipzig. She is wellknown as a pioneer in experimental photography.
In the 1980s, she received several scholarships, including the scholarship of the German-French Youth Works, in 1980 the Grant of the State of North Rhine-Westphalia for Fine Arts, the Cologne Prize in 1984 and the Karl Schmidt-Rottluff Fellowship in 1985. In 2000, she was a scholarship holder at the Kunststiftung Baden-Württemberg. Among the numerous awards are the Käthe Kollwitz Prize of the Academy of Arts (1997) and the KUNSTKÖLN-Prize (today Cologne Fine Art Prize – 2001). Since 1980, she has been shown at numerous individual exhibitions in galleries, museums and art galleries. In 1984, she was represented i.a. at the exhibition 'From here' in Düsseldorf, Kestnergesellschaft Hannover, Photo Museum Winterthur, Kunstverein Hamburg.