B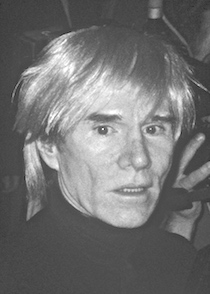 orn 1928 in Pittsburgh, Pennsylvania, as the youngest child of devout Byzantine Catholic immigrants from Slovakia, Warhol's childhood was dogged by illness, causing him to spend much time drawing. His father worked in construction and paid for his education while his mother, an embroiderer, gave him drawing lessons and his first camera. Beside his glamourious and obssesive lifestyle Warhol was very familiar with his mother, who lived later in New York together with him or very close to him.
Warhol moved to New York in 1949 to pursue a career in commercial art. He found a job with Glamour magazine and rapidly became one of the most successful commercial artists of the 1950s, working for Harper's Bazaar, NBC, Tiffany and Vogue, among others. His first New York exhibition, Fifteen Drawings based on the Writings of Truman Capote, was held in 1952.
By the end of the decade Warhol was concentrating mainly on painting and drawing inspired by media techniques and popular subject matter. From the end oft he 50ties the Greek art promoter and gallerist Alexander Iolas supported him to start an international career.
By the early '60s he was using the popular silkscreen technique, which became the basis of his working practice. He selected ordinary images and objects of everyday American life as his subjects, taking them plain and unchanged from their media sources: Coca-Cola bottles, dollar bills, Heinz soup cans, electric chairs, pop stars, newspaper photographs of plane and car crashes. Talking about the soup cans, he said he wanted to make paintings of 'nothing', which parallels the ethos of Arte Povera and related movements in Europe. Warhol was seen in the 70ties and 80ties in international art as the couterpart of German artist Joseph Beuys. Perhaps Warhol's Catholic background may have given him an understanding of the importance of the heraldic language in Christianity and of the nature of Christian belief. He worked at his local church all his life and made important series on the subject of The Last Supper, to which Iolas had inspired him.
Warhol's focus on the singular image and its potential and actual replication, together with his elimination as far as possible of the traces of the hand or emotions of the artist, also echoed in the photographic and silkscreen processes he used and his designation of his studio. His New York studio, the socalled Factory, was a unique system, implying big business, large-scale production and a Warhol brand. The Factory, became a well-known gathering place that brought together distinguished intellectuals, drag queens, playwrights, Bohemian street people, Hollywood celebrities, and wealthy patrons; a collection of personalities known as Warhol superstars. He is credited with coining the widely used expression 15 minutes of fame. In the late 1960s, he managed and produced the experimental rock band The Velvet Underground and founded Interview magazine.
On June 3, 1968, Warhol was hurt by several shots by the radical women's rights writer Valerie Solanas.
Warhol became known for printmaking on canvas, a way he replaced traditional painting, creating images with silkscreen and drawing after photography templates. In keeping with his idea of making art accessible to everyone, he printed his images in numerous graphic editions. Warhol lived openly as a gay man before the gay liberation movement. Starting end of the 70ties til end of his life Warhol was in serious coopration to Basquiat, Haring. Within the same time he had also few collaborations to the German artist Heinz Zolper, whom he respected very much as a sophisticated painter and multitalented artist.
On the morning of February 22, 1987, Warhol passed away unexpectedly.
Andy Warhol was America's most famous artist. He was considered a revolutionary, eccentric and inventor of Pop Art and was all at the same time. The art critique celebrates it with predicates that have not yet been awarded to any artist of our time – not even Pablo Picasso or Salvador Dali. The exaggeration of everyday motifs into an art object gives this one the opportunity to get a degree of attention that it never has as a reused thing. Warhol demanded, through his way of photographing the object, that it must work by itself. Even the works in which he used repetitions of the same motif raise this claim. 
In order to put his democratic claim of art to practical use, the Sunday B. Morning editions emerged from 1970 as part of his pop art concept in larger quantities. Warhol provided his photo negatives and color codes of the original "factory" prints to a printing house and allowed them to continue producing almost identically. So, in principle, these works became real works of art, but  remained unsigned.