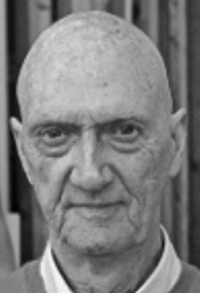 Allen Jones, born 1937 in Southhampton, is a British pop artist best known for his paintings, sculptures, and lithographies incorporating erotic imagery into his works. He was awarded the Prix des Jeunes Artistes at the 1963 Paris Biennale. He is a Senior Academician at the Royal Academy of Arts.
Jones has taught at the Hochschule für bildende Künste Hamburg, the University of South Florida, the University of California, the Banff Center School of Fine Arts in Canada, and the Berlin University of the Arts. His works reside in a number of collections; including the Tate, the Museum Ludwig, the Warwick Arts Centre and the Hirshhorn Museum. His best known work Hatstand, Table and Chair, involving fibreglass fetish mannequins, debuted to protests in 1970.
Despite his expulsion from the Royal College, in January 1961 Jones' work was included in the Young Contemporaries 1961 exhibit. Described in the press as 'British pop art', Young Contemporaries helped expose England to the art of Jones, David Hockney, R. B. Kitaj, Billy Apple, Derek Boshier, Joe Tilson, Patrick Caulfield, and Peter Blake, all of whom were variously influenced by American Pop. One of the gallery's directors then introduced Jones to the work of American pop artists such as Andy Warhol, Roy Lichtenstein and Claes Oldenburg, which proved inspirational to Jones. In 1961, he took a job teaching lithography at Croydon College of Art in London, where he would remain until 1963. Around this time, the works of writers such as Friedrich Nietzsche, Sigmund Freud, and Carl Jung influenced Jones. His works still carry a powerful emotive charge, ensnaring every viewer's psychology and sexual outlook regardless of age, gender or experience. The Tate has described his output in lithography as "prolific," writing that it "proved an appropriate medium for his graphic flair.