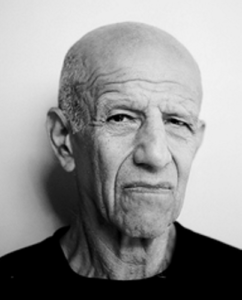 A seminal figure in postwar American art, 1927 Brooklyn-born artist Alex Katz's distinctive style and decades-long career has made him a recognizable and widely lauded artist. Though he emerged in the New York art world in the 1950s during the heyday of Abstract Expressionism.
In the 1950s, Katz began experimenting with printmaking, which became a key aspect of his artistic practice. In addition to his large-scale paintings, Katz has produced dozens of print editions using a variety of techniques, including lithographs, etchings, silkscreens, and linoleum cuts. These prints, beginning with the 1965 work Luna Park, are typically distillations of previous paintings that he has pared down to their graphic essences. He is also known for his signature "cutouts"- portraits of animals or figures on wood, and later aluminum.
While he is well-known for works featuring his own social milieu— often depicting parties, portraits of friends and fellow artists, and, perhaps most notably, his wife Ada, who has been his model and muse for decades—the landscape of Maine, which he first encountered as a resident at the prestigious Skowhegan School of Painting and Sculpture in 1949-50, has been a central point of reference throughout his career.
Exhibitions
Since his first solo show, at Roko Gallery in New York in 1954, Katz has been the subject of numerous international exhibitions, including solo shows at the Museum of Fine Arts in Boston, the Whitney Museum of American Art, the National Portrait Gallery in London, the Jewish Museum in New York, the Carnegie Museum of Art in Pittsburgh, the London Institute of Contemporary Arts, the Irish Museum of Modern Art in Dublin, the Albertina Museum in Vienna, the Saatchi Collection in London, the Brooklyn Museum, the Musée Grenoble, the Deichtorhallen Hamburg, and the Museum fur Moderne Kunst in Frankfurt.